MOBILE CAR DETAILING - CAIRNS
Excellent Value - Experienced Staff
Professional Mobile Car Detailing Cairns - Services
Joshua Peterson
2023-03-20
Wow, great work on my Ford Everest - It looks brand new again after the team did a full car detail on it. They were really busy but could fit me in on a moments notice. These guys come well recommended!...
Spoke with Ayden on the phone about detailing my 4x4 which I had concerns about paint deterioration and he was very knowledgable in paint protection services and recommended plenty of tips and tricks to keep my vehicle in great condition. He answered all my questions and I can't wait to book my vehicle in after my road trip!
Our Ford Mondeo has few paint issues and we wanted a professional to have a look to see what they could do. We werent expecting miracles but we are very satisfied with the results. Our car looks great! Pleasently surprised!
Loren Mitchell
2023-01-25
My family and I are on holidays in Cairns and our car was looking a little dirty. I always wanted to have a full car detail done on my BMW. They are a mobile car detailing company so they came out to our holiday accommodation and did the clean there. Great work, and love how the car looks - cheers.
After a few months of neglect our family car was in need of a deep clean. I contacted to ask for quote and what services they provide and we organised a time for the clean to be done. They came out to my home and did a full car detail. Very happy with the results - thanks to the team.
My son had spilled milk in the back seat of our 4x4 and it was starting to smell (after one day already). We rang these guys and stated our problem - no worries for them. They were able to remove the milk, milk stain and smell and fully detail the car. They are professional for sure!
Amazing service received by Cairns Car Detailing. We have a Kia Sportage that is a few years old and needed some TLC. We contacted them for a quote and they were very competitive compared to other companies. They arrived on time and got straight to work. They returned the car looking amazing, we are really happy with the results.
I recently used the services of Cairns Car Detailing Professionals for a full interior and exterior clean. Mobile Car Detailing at its finest. I was selling my work Hilux and needed it looking good, as you can imagine it was quite bad being a chippy. I don't usually leave reviews either however - The team did an amazing job. My Ute actually looked brand new inside and out, 5 STARS!
These guys have been my family's go-to for a while now and never disappoint with the service. My car is usually parked outside and is very messy thanks to my dog too but everytime these guys look after it, car comes back looking and smelling like new. A great local business to support for anything car detailing related
I was visiting Cairns recently on a holiday and after having my friends dog briefly in the car (who left an incredible amount of fur) I needed to get a mobile car detailing job done on the car I was using before heading back home. I was extremely satisfied with the job this business did and how accomodating they were for me last minute ( and able to get rid of all the doggy fur ). I would definitely recommend and will use again when I am back in Cairns in the future.
Industry-Leading Techniques
Exceptional Mobile Car Detailing Cairns
Pride And Joy Car Detailing Cairns is committed to providing world-class services that go beyond traditional car washing.
Our expert detailers specialise in cleaning and protecting your vehicle from the inside out, ensuring it looks and feels brand new. Our comprehensive services cover the entire Cairns region, so no matter your location, we will come to you.
Our highly trained and fully insured professionals use only the best techniques and products to provide top-quality results for your vehicle.
Whether you need a simple wash and wax or a full restoration, you can trust Pride And Joy Car Detailing Cairns to deliver exceptional service and impressive results.
Convenience and Flexibility
One of the main advantages of choosing Pride And Joy Car Detailing Cairns is the unparalleled convenience and flexibility we offer.
Our detailers are available Monday through Friday from 7:00 am to 5:00 pm and on weekends from 8:30 am to 4:00 pm. To ensure your preferred appointment time, it's best to book at least one week in advance.
By bringing our services directly to your doorstep, we save you time and effort. No more waiting in line at the car wash or rearranging your schedule to accommodate a detailing appointment. 
With Pride And Joy Car Detailing Cairns, you can relax and let us take care of the hard work.
Professionalism and Expertise
Our detailers possess an unmatched level of expertise, allowing us to restore your vehicle to its original condition. Our team is highly trained and experienced in handling all types of vehicles, from everyday cars to luxury sports cars and even 4WD vehicles.
Cairns car wash and Detailing services go above and beyond industry standards, ensuring your vehicle receives the best care possible.
In addition to our expert staff, we are committed to using only the highest quality products and techniques in our detailing services. This dedication to excellence ensures your vehicle looks its best, with a stunning and long-lasting finish.
At Pride And Joy Car Detailing Cairns, we understand that each vehicle and its owner have unique needs and preferences. That's why we offer customised services, tailored to your specific requirements.
Our detailers will work closely with you to determine the best course of action for your vehicle, ensuring a result that exceeds your expectations.
One satisfied customer shared their experience with our customised services, stating, Pride And Joy Car Detailing Cairns tailored their services to my specific needs and achieved a stunning result for my vehicle." It's this commitment to customer satisfaction and attention to detail that sets us apart from the competition.
Full Maintenance Detail
From $300
Interior
Complete Interior Vacuum
Plastic's & Vinyl's cleaned and Protectants
Deoderised
Door & Boot Jambs Cleaned
Interior Window Cleaned (Amonia Free – Safe on Tint)
Exterior
Wheels Cleaned
Snow foam exterior hand washed – (PH-Natural)
Tyres Dressed
Windows Cleaned
Touchless Air dried to remove water form inner surfaces
Wax sealant applied
*Disclaimer
Full In-Depth detail has been completed on vehicle OR vehicle is in well maintained condition.
Down To The Last Details Service From $400
Interior
Deep Vacuum
Interior Steamed to kill harmful bacteria
Spots and small stains removed
Dashboard, Interior trims and vinyl deep cleaned and protected
Pedals cleaned
Glove box cleaned
Mats cleaned
A/C vents cleaned
Interior Windows cleaned
Deoderised
Exterior
Snow Foam Hand Wash – (PH-Natural)
Bug, Tar and Grime eliminated
Fuel cap area cleaned
Wheels cleaned
Tyres Dressed
Exterior Windows cleaned
Wax sealant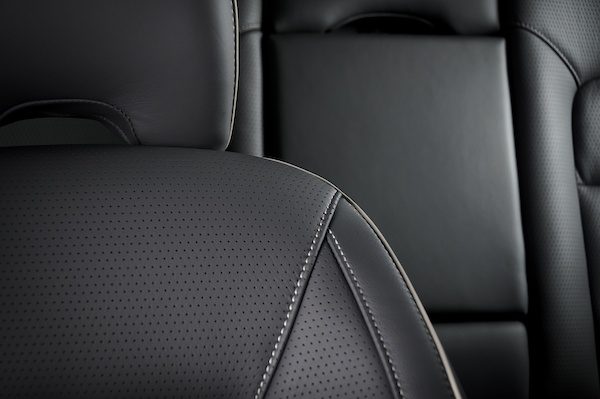 The New Home Detail (pre-sale clean) From $600
Interior
Deep Vacuum
Interior Steamed to kill harmful bacteria
Spot stain removal
Seats Mats and Floor Shampooed (if fabric)
Dashboard, Interior trims and vinyl deep cleaned
Pedals cleaned
A/C Vents cleaned
Interior Windows cleaned
Exterior
Snow Foam Hand Wash – (PH-Natural)
Bug, Tar and Grime eliminated
Engine Bay detailed
Fuel cap area cleaned
Wheels cleaned
Tyres dressed
Plastic Trim dressed
Exterior Windows cleaned
Wax sealant
Paint Correction (Cut & Polishing) From $320
Whether it be scratches, faded paint, oxidation, minor swirls, animal droppings or holograms, our paint correction services have got you covered.
Paint Enhancement
Snow Foam hand wash
Chemical Decontamination
Clay bar
Single stage cut & polish
Removal of degraded clear coat, oxidation
Rejuvenation of paintwork
Sealant applied
Windows cleaned 
Maintenance Details & Corporate plans
Once a week or once a month, maintenance plans are available for any & every vehicle.
Exterior, Interior or both are available under maintenance detail plan, request a quote today for a customized discounted rate.
Let us know how vehicles are in your fleet and we'll give you a customized discounted rate.
Comprehensive Detailing Services
Pride And Joy Car Detailing Cairns offers an extensive range of services to address every aspect of your vehicle's appearance and protection. From interior and exterior detailing to engine bay cleaning, our team will ensure your car receives the best care possible.
In the following sections, we will explore these comprehensive detailing services in more detail.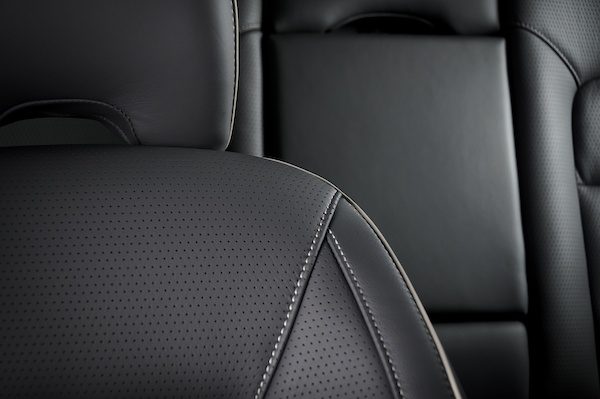 Our interior detailing service is perfect for those who want to restore the cleanliness and freshness of their vehicle's interior. From removing sand, stains, and crumbs to eliminating pet hair, our detailers will ensure your car's interior is spotless and odour-free.
Our interior detailing service goes beyond the usual car detail. It includes a two-stage paint correction cut & polish, with the added protection of a sealant finish. This process not only restores the original appearance and aroma of your car but also provides a sanitary environment for your comfort.
Exterior detailing involves a thorough cleaning and restoration of your vehicle's exterior surfaces, including paint, chrome trim, windows, wheels, and tires. Our detailers utilise advanced techniques and products to remove years of scratches, damage, and wear and tear, ultimately restoring the original shine and protecting the vehicle's resale value.
The exterior detailing process typically includes washing, claying, polishing, waxing, and sealing. Depending on the condition of your vehicle, additional steps such as paint correction and paint protection may be necessary. To ensure optimal results, our detailers follow manufacturer guidelines and use clean, soft cloths to prevent further scratches during the process.
Engine detailing is an essential service for maintaining optimal performance and preventing corrosion. Our engine detailing service includes cleaning the engine bay, degreasing the engine, and polishing and protecting engine components.
In addition to enhancing engine performance, engine detailing helps protect the engine from corrosion and other damage. To ensure the best results, our team uses appropriate products and techniques and adheres to safety protocols when working on your engine.
Advanced Paint Protection Solutions
Protecting your vehicle's paint is vital for maintaining its appearance and value. Pride And Joy Car Detailing Cairns offers advanced paint protection solutions, including ceramic coating, paint correction, and maintenance tips, to ensure your car remains in pristine condition.
Ceramic coating is a cutting-edge paint protection technology that offers a durable surface finish, shielding your vehicle from environmental contaminants, bird acid, and tree sap. This liquid polymer sealant chemically bonds to your car's factory paint, forming a long-lasting layer of protection that can last for years.
Applying a ceramic coating not only enhances the paint's gloss, but also protects against UV rays and provides a barrier against scratches, water spots, and other substances. To maintain the performance of the ceramic coating, it is recommended to wash your car regularly with a mild soap and water solution, as well as wax your car regularly to keep the coating in good condition.
Paint correction is the process of removing surface scratches, swirl marks, hazing, marring, and other blemishes from your car's paint surface. This is achieved through the careful use of specialised machines and polishing compounds, which remove minuscule layers of clear coat until the surface is restored.
Car paint protection is essential to the long-term protection of your vehicle.
The advantages of paint correction include enhancing your vehicle's appearance and value prior to selling or trading it in, or even before a special occasion. Additionally, paint correction can protect your car's paint from further damage and make it easier to clean and maintain.
To keep your vehicle looking its best, it's essential to follow a few maintenance tips. Regularly changing the oil, rotating the tires, and checking fluid levels are vital for optimal car maintenance. Additionally, keeping your car's battery clean and inspecting the connections regularly can ensure the longevity of the battery.
Other important maintenance tips include replacing brake pads when necessary and inspecting your car's suspension system at least once a year. By following these simple tips, you can prolong the life of your vehicle and keep it running smoothly.
Pride And Joy Car Detailing Cairns understands the unique needs of 4WD vehicles, which is why we offer specialised services tailored to their specific requirements. These services include bull bar cleaning and detailing, salt water washdown, and repair and restoration.
In the following sections, we will explore these specialised services in more detail.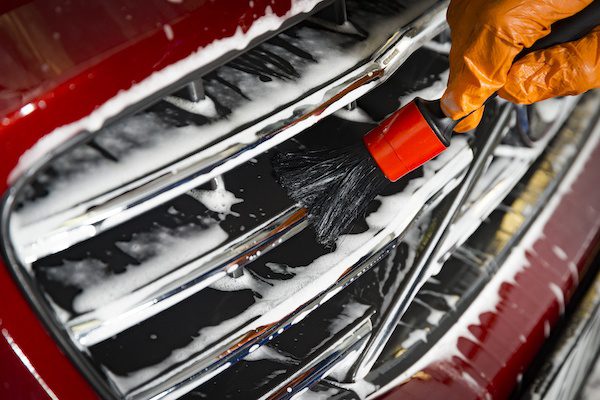 Bull Bar Cleaning And Detailing
Bull bar cleaning and detailing involves removing dirt, mud, and dust from your 4WD vehicle's bull bar using a brush and soap and water. To achieve a fresh look, specialised polish is recommended for polishing the bull bar.
This service not only enhances the appearance of your 4WD but also ensures optimal functionality and protection.
Has Your 4x4 Been On The Beach???
Fresh Water Washdown - Protect From The Elements
A Fresh Water washdown and Specialised Cleaning Treatment is an efficient method of cleaning vehicles and eliminating salt accumulation, especially for 4WD vehicles frequently exposed to marine environments.
This service helps safeguard your vehicle against corrosion and other environmental factors, such as dirt, dust, and debris.
Regular maintenance when using salt water washdown is essential to ensure that your vehicle is adequately cleaned and protected from weather damage and to prolong its lifespan.
Repair and restoration services for 4WD vehicles involve repairing or replacing parts to bring the vehicle back to its original condition. Our team can handle everything from minor repairs, such as dent and scratch repair, to major repairs, including engine and transmission work.
By engaging in proper 4WD detailing and repair services, you can ensure the longevity and optimal performance of your vehicle, as well as increase its value.
Customer Satisfaction and Testimonials
At Pride And Joy Car Detailing Cairns, customer satisfaction is our top priority. We pride ourselves on providing exceptional service and impressive results that our clients can rely on.
Below you can see some of the positive testimonials we have received from our satisfied customers.
Our commitment to providing a positive, helpful, and timely experience for our customers has earned us a reputation for exceptional service. We go above and beyond what is expected to ensure customer satisfaction, from hand-writing thank you notes to remembering regular orders and staying beyond our shift to assist customers when needed.
Customers have praised Pride And Joy Car Detailing Cairns for achieving superior results compared to standard car washes. Our meticulous attention to detail and use of high-quality products ensure that your vehicle looks its best, with a stunning and long-lasting finish.
Trusted Mobile Car Detailer Cairns
The convenience of our mobile services, our professional-grade equipment, and the positive word-of-mouth recommendations of our satisfied customers all contribute to the trustworthiness of Pride And Joy Car Detailing Cairns.
When you choose us as your mobile car detailer, you can have confidence in the quality and reliability of our services.
Pride And Joy Mobile Car Detailing Cairns offers a convenient and professional solution to keep your vehicle looking its best in 2023. With our comprehensive detailing services, advanced paint protection solutions, specialised services for 4WD vehicles, and a focus on customer satisfaction, you can trust us to deliver exceptional results. Experience the difference for yourself and contact Mobile Car Detailing Cairns today.
Your local cairns car detailers
We are a dedicated team with a mission – to make your car look and feel like new.  Our team offers the full detail service leaving your car looking great, all while saving you precious time.
Speaking of precious, we care about our environment.  We take pride in utilising environmentally safe methods and chemicals in our cleaning process.  Water should be cherished and thats why we offer the option of waterless washes.
With over a decade of experience in the automotive detailing industry we know exactly what it takes to get the job done.
Contact us today to find out how we can help you.